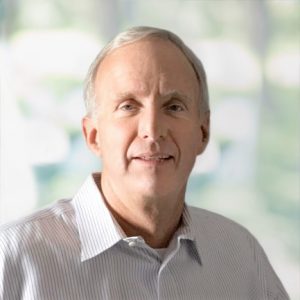 Clark Davis, FAIA, LEED AP
Insightful. Creative. Knowledgeable. Musical.
"As an architect, I see the firm as a design challenge — aligning strategy, structure, and leadership to make a group successful in its own way."
ABOUT CLARK
Clark helps individuals and firms achieve their greatest potential. As an architect, he approaches firms as a design challenge, aligning their strategy, structure, and leadership to help make them more successful in their particular circumstances. He has assisted more than 40 design firms as Cameron MacAllister Group clients.
When working with individual leaders, Clark avoids traditional definitions of leadership roles, instead, he helps them find ways to build their careers on their own strengths and aspirations. He assists leadership teams in shedding professional and emotional baggage so that each individual contributes his or her best, and the organization becomes stronger in the process.
Clark has always been fascinated by the connection between the quality of an organization, the quality of its built work, and the experiences of its people. Drawing on his skills as a classical musician, he sees the structure and interpretation of music as a close analogy to people's challenges as leaders in professional organizations. They both have lots of moving parts—and they both take practice.
Before joining Cameron MacAllister Group, Clark was Vice Chairman and Managing Principal of an international architecture firm headquartered in St. Louis, Missouri. He has been recognized as a Fellow of the American Institute of Architects (AIA) and a Senior Fellow of the Design Futures Council. Clark was elected President of AIA St. Louis and AIA Missouri and to the AIA Large Firm Roundtable executive committee.
---
PUBLISHED WORK
Slow Connections? You can Build your Leadership Bandwidth this Year, article, Cameron MacAllister Group, January 27, 2022
What can the Design Professions Expect in 2022, article, Cameron MacAllister Group, January 4, 2022
New Realities: Leadership Lessons on Firm Culture, article written during the pandemic, Cameron MacAllister Group, December 23, 2020
Designing the Design Firm – For A New Normal, article written during the pandemic, Cameron MacAllister Group, August 24, 2020
New Realities: The Human Impact on Design Firms, article written during the pandemic, Cameron MacAllister Group, June 2, 2020
Safety, Transparency, and Gratitude: Now More than Ever, article written during the pandemic, Cameron MacAllister Group, March 27, 2020
Adult Conversations: Managing Building Project Risk, article, Cameron MacAllister Group, August 27, 2018
Building A Rainforest Firm: Lessons From Silicon Valley, article, Cameron MacAllister Group, June 21, 2018
Making Real Change Or Just Rearranging The Chairs?, article, Cameron MacAllister Group, May 9, 2018
Can't Somebody Just Make A Decision?, article, Cameron MacAllister Group, February 21, 2018
Keeping The Magic In A Creative Organization, article, Cameron MacAllister Group, October 9, 2017
Designing Your Client Experience, article, Cameron MacAllister Group December 5, 2017
Construction Risks in Building Design and Construction | Dodge Data & Analytics, report, Managing Uncertainty and Expectations in Building Design and Construction
Construction Project Management and Planning Guide | Dodge Data & Analytics, report, Managing Uncertainty Project Planning Guide for Owners and Project Teams
The Architect's Handbook of Professional Practice, 13th and 14th editions, book, published by the American Institute of Architects
PROFESSIONAL AND INDUSTRY PRESENTATIONS
Leading Engaged Teams in a Hybrid Workplace, webinar, ACEC Young Professionals Webinar, 2021
Managing Uncertainty and Expectations in Building Design and Construction, research and project planning guide, Willis A&E Leadership Conventions, 2016, 2017, 2019
Evolving in Place: Structuring your Firm to Succeed, presentation, Texas Society of Architects Convention, 2018
Designing your Client Experience, presentation, AIA National Conference, 2017
Working with Clients, presentation, AIA Kansas City "Business of Architecture" Series, 2017
Designing your Client Experience, presentation, CXps Conference, 2016
Managing Uncertainty and Expectations in Building Design Construction, presentations and webinars, AGC National Convention, Construction Owners Association of America National Conference, and Vanderbilt Healthcare Symposium (2015); DBIA National Convention, American College of Construction Lawyers Conference, and American Bar Association (2014)
Sustainable Environments: A Global Imperative for the 21st Century, presentation, Niagara Foundation, 2012
The Matrixed Firm, presentation, Design Colloquium, 2004
EXPERTISE
ORGANIZATIONAL DEVELOPMENT AND GOVERNANCE
Strategic Planning
Organizational Development
Operations and Financial Management
Internal Ownership Transition
Meeting and Retreat Facilitation
Merger and Acquisition Representation
Firm Performance Audits
Project Team Performance
Leadership Training
Leadership Assessment
Leadership Succession Planning
Coaching and Mentoring
Team Building and Alignment