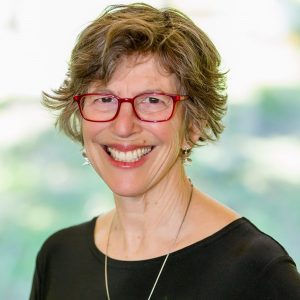 Mary Ann Lazarus, FAIA, LEED Fellow
Perceptive. Inclusive. Integrated. Mission-driven.
"I see today's climate action and social justice challenges as the ultimate design problems. What a great time for design professionals to take on a leadership role with our clients and communities. Every conversation is as an opportunity to explore new ideas to deliver beautiful, sustainable, equitable, and resilient solutions at all scales."
ABOUT MARY ANN
Drawing from her experience driving sustainability within an international design firm and across the architectural profession, Mary Ann has a deep understanding of how to work with firms both at the early stages of sustainable integration and those ready to go to the next level. She takes time to develop a clear understanding of each firm's unique needs and leadership opportunities to develop strategies that work. Mary Ann collaborates closely with Betsy del Monte of Cameron MacAllister Group and brings her 35 years of experience to help firms create built environments that meet sustainable and resilience performance outcomes and design excellence.
Open-minded and inclusive, Mary Ann believes in bringing stakeholders at all levels together to understand how sustainability and climate action can align with their firm's unique goals. She believes in the strength of the group to achieve creative, realistic, and sometimes surprising results.
Mary Ann serves on many boards and committees and is active in green building as an author, national lecturer, community advocate, and volunteer at the local and national levels. She served as the 2017 chair of the American Institute of Architects (AIA) Committee on the Environment Advisory Group. She also sits on the USGBC Resilience Steering Committee Group and the AIA Board's Climate Change and Design Excellence Committee. Mary Ann is also an adjunct faculty and sustainability program coordinator at Washington University in St. Louis, Missouri.
Before joining Cameron MacAllister Group, Mary Ann was the firmwide Director of sustainable design at an international architecture firm headquartered in St. Louis, Missouri. She also served as the resident fellow for sustainability for the National AIA.
Mary Ann's global outlook is reinforced by a love of travel and always trying to see the world through different perspectives.
---
PUBLISHED WORK
Calling all Design Professionals: Climate Action Now!, article, Cameron MacAllister Group, March 1, 2022
Architecture Awards Reflect Changing Priorities, article, Cameron MacAllister Group, May 5, 2021
New Realities: Climate Action in Challenging Times, article, Cameron MacAllister Group, January 12, 2021
How Do You Design For An Unknown Future?, article, Cameron MacAllister Group, November 13, 2018
Fourth National Climate Assessment Volume II: Impacts, Risks, and Adaptation in the United States, Chapter 28, Reducing Risk Through Adaptation Action, book (review editor), 2018
Resilient Design, Encyclopedia of Sustainability Science and Technology, article (co-author), 2017
Sustainability Leadership Opportunity Scan, AIA, research, Fall 2013
HOK Guidebook to Sustainable Design, Second Edition, book (co-author), 2005
EXPERTISE
Sustainability Assessment

Sustainability and Resiliency Strategy

Regenerative Thinking

Climate Action Plans