2,080 miles apart, friends and CMG colleagues Tiffany Berergon (New Orleans) and Kate Murphy (Seattle) bonded instantaneously four years ago over a love of analog snail mail and an appreciation for life's little moments. This bond has only strengthened this past year, and while we have continued to stay in touch with pen and paper, we also started a new tradition: teatime Zoom hour. Sometimes it's just the two of us, sometimes we invite our friends in the AEC industry to virtually meet and connect. Either over a virtual beverage, in our letters and/or text exchanges, we try to chat less about work and instead share new things that help us stay creative and inspired, as well as how we aim to prioritize our mental health and overall well-being during these times. As one year of the pandemic approaches, over a teatime this month we decided why not write these ideas down on digital paper and share with our CMG community. Whether solo with peers or family, we could all use a reminder of ways to stay connected and creative.
1. Virtual Health + Wellness: Try a virtual solo or group class such as breathwork, meditation,  or yoga (live or recorded); or, talk to someone one-on-one outside your circle by starting (or continuing) therapy sessions. Some online counseling recs include TalkSpace and Better Help.
2. Stretch 'Deskercise' Breaks: Between your emails, Zooms and Netflix binges, make sure to stand up and stretch in whatever room you happen to find yourself. A few favorites include Outside's 10 minute stretch routine and healthline's everyday deskercise stretches.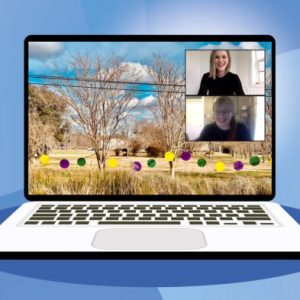 3. Daily Dose of Fresh Air: Get outside! Make time and find any excuse to have a daily dose of fresh air wherever you live. Multi-task and take your call outside while you're walking, or just turn off your phone and enjoy your surroundings in your neighborhood. Explore your own neighborhood or a new one with new eyes by taking yourself on a self-guided photo walk and photograph details such as signage of old buildings, new murals, or an area's material palette.
4. Snail Mail Pen Pals: Whether you're in the same city or are states/countries apart, connect with a friend (new or old), family member or colleague by sending an analog note. Hopefully they'll return the gesture, and if you keep this going, now you have a new pen pal! Support a local shop or friend by buying stationary, or send an old postcard collected from travels past. Running low on stamps? Guess what, you can order stamps online via our favorite USPS!
5. Help Others – Volunteer/Donate: During this time more than any other, we need to continue to support one another on a local and global level. Each week it seems there is a new cause in need of donations of time, resources, and/or dollars. Volunteer or drop off food at your local food bank. Support the art/design community and subscribe to virtual programming such as OtB.TV.
6. Pick-Up the Phone: Feeling Zoom-ed and text/emoji-ed out, but still want to connect? Trust us, you're not alone. Pick up the phone and embrace the power of the old fashion phone call. Whether it's someone a mile from your home or many miles away, call someone you would normally bump into in the pre-pandemic life, or just someone you want to (re)connect with.
7. Share Listening Lists: Along with your favorite Netflix series, share your favorite Spotify playlists/podcasts with one another. We're all in need of new recs right about now. Some favorite podcasts include: Majority 54, Oprah's Super Soul Sunday, Pod Save the World, Unlocking Us, Wait Wait Don't Tell Me, The Daily, and Death, Sex & Money.
8. Spice Up Your Zoom/Slack: To avoid Zoom fatigue but stay connected, think about new creative ways to use the platform with colleagues, friends and family such as: virtual teatimes (connect one-on-one or each invite someone new to join); weekly happy hours in small groups (send a speciality drink recipe); or, make time for streaming watch parties, book clubs, and craft hour. And how about Slack? Create channels for fun to share things other than work such as those devoted to sharing articles, listening/watching recs, nearby travel, nature or food photos.
9. Take Time Off: While we can't travel like we used to, we can embrace our surroundings with fresh eyes, either solo or with family. Trade travel lists with friends in your area. To start, for those in the PNW, here's a list of WA recs for a weekend near the water. Or, simply stay put and take time off for a personal day to take care of things, including yourself. Finally schedule those doctor appointments and other miscellaneous ones you have missed or put off this past year.
10. Celebrate Yourself/Team: Remember to celebrate your daily achievements, especially the small ones. These Freelance Achievement Stickers from The New Yorker have taken on a new meaning for all of us #WFH. Give yourself a sticker! Or, looking for new ways to celebrate your team? Send an online card filled with messages, GIFs, photos or videos via KudoBoard.
But how? To make sure you prioritize your wellness and stay creative, we recommend simple things such as scheduling time in your digital calendar. It can be for just 10 minutes, but make it a priority. Set daily intentions to improve and keep your wellness in check. Set boundaries and communicate them to others in your household and in your work team. And remember to ACT: Zoom in new ways, pick up a pencil, put on your shoes. A year later, we're all still in this together. Move forward with compassion for others, and most importantly, for yourself.
We would love to hear from you — share your tips and tricks for wellness, sanity and connectivity during these tough times — drop us a line @ [email protected] and @ [email protected]. Snail mail addresses available upon request.